Hereshore® is Core10's way to describe our unique model of developing software exclusively in the US, utilizing technology talent based in America's heartland. It allows us to maintain high-quality standards, yet keeps costs low for our clients based on the cost of living in the cities and towns where we locate our hereshore development centers.
These non-traditional markets bring their challenges; if it were easy to establish a development presence there, everyone would be doing it. But we feel strongly about the
potential of the heartland as a source of strong development talent, and we are passionate about building communities that allow technology professionals to do the work they love in the places they love to live.
A core component of our success is the training curriculum we provide for our developers. When they join Core10, they learn about the Core10 Way, both through classroom-style learning and participation in their first few projects. The Core10 Way is our proprietary methodology for software development and professional services, based on disciplined agile, and incorporating our unique ceremonies to ensure project success.
Our teams also participate in ongoing education in our core tech stacks and emerging technologies through an online learning platform and enjoy healthy competition with their peers to learn and master new skill levels. As the saying goes, "if you're not moving up, you're moving back," and our team members take this to heart as they pursue increasing levels of competency in a specific tech stack or learn a new one.
One of the challenges in our hereshore markets is the ability to build and maintain a strong talent pipeline to support our growth and execute on client projects. Fortunately, we have established solid partnerships that provide us with the "cream of the crop" in terms of recent computer science and software development graduates, as well as mid-career professionals.
We work directly with the Computer Science and Engineering departments at local colleges and universities in our hereshore communities. We serve on advisory boards to provide input to the curriculum and work directly with professors to recruit top students and advise on the kinds of technical skills our business demands.
We also participate in career center programs, such as job shadowing and recruitment fairs to position ourselves as a great place to work, from our career advancement opportunities to our technical training to our strong, collaborative culture.
Our partnerships with local community and technical colleges are an extremely vital part of what we do in terms of bringing on the best and brightest technology talent. These programs give us a platform to share the critical skills Core10 developers need, and they deliver in terms of teaching and perfecting those skills with their students.
A key component of our community and technical college partnership is our participation in co-op programs, where students work for us while completing their degrees. These partnerships allow us to train them on the job while conducting an extended "interview" to learn how they work. In turn, the students gain valuable real-world experience so that they can hit the ground running when they transition to full-time employees. These partnerships further enrich the sense of community we enjoy in our hereshore towns and cities.
The final key component to our ability to recruit top talent is NewForce, a 6-month full-stack software development boot camp that debuted in West Virginia earlier this year. We served in a pivotal role in the design of this program, bringing together state and regional education and non-profit partners to bring the dream of a nationally recognized Bootcamp curriculum to reality in a hereshore market. Along with other employer partners in West Virginia, we are hiring these bright students to live and work in the Mountain State, contributing to the local economy and changing their career trajectory for the better.
NewForce students tend to be mid-career professionals who want to pivot to a software development career path. They come from backgrounds such as engineering, education, and web design. Many of them had an interest in development before starting the program. Now, as newly minted graduates, they bring their past work experience and maturity to bear on their chosen career.
Core10 offers high-quality development work at a value, and that's not an easy thing to achieve. It requires a rigorous training program and healthy recruiting practices that ensure we hire top talent and help them continue to grow.
We feel good about outsourcing in America's heartland. Isn't it time you did too?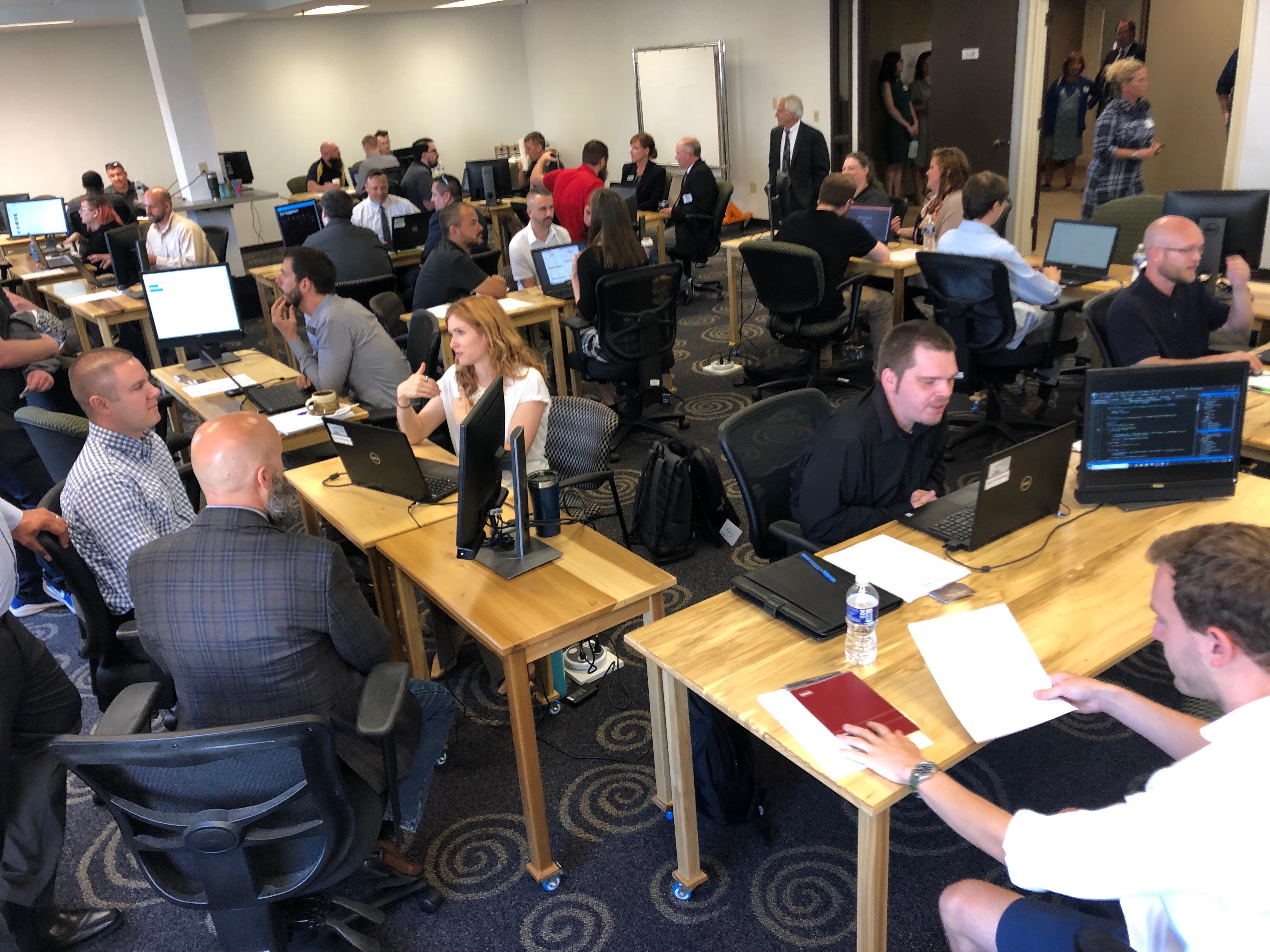 Images from NewForce's First Demo Day in July of 2019.